ASME Pipe & Steel Fabrication Services in Litchfield, Connecticut
All State prides ourselves on being an industry leader in pipe & steel fabrication in the Litchfield, Connecticut. We are committed to professional, quality piping and steel systems that meet all of the requirements for your projects including everything from design-build to fabrication and installation of engineered code projects. We are U, S, H & R stamp qualified by the National Board and our fabrication facility is filled with highly skilled craftspeople, pipefitters, pipe fabricators and pipe welders, who are all certified through ASME Section IX and maintain excellent safety and quality performance records. All State Construction has a ten thousand square foot fabrication shop located on six acres in Farmington, Connecticut. Our massive pipe & steel fabrication shop allows us to perform custom fabrication to meet all of our clients' needs and exceed their expectations including:
Litchfield, Connecticut Structural Steel
Litchfield, Connecticut Stacks
Litchfield, Connecticut Breeching
Litchfield, Connecticut Ornamental Steel
Litchfield, Connecticut Pipe Fabrication
Litchfield, Connecticut Shearing
Litchfield, Connecticut Bending
Litchfield, Connecticut Punching
We also offer galvanized or painted finishes from our in-house paint shop.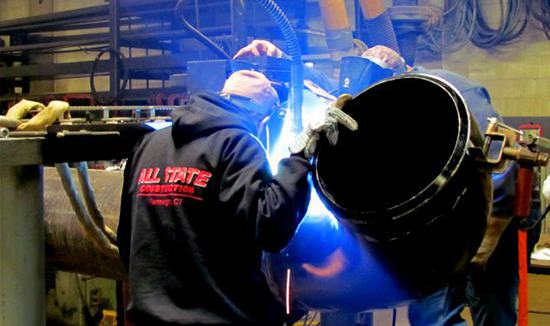 For more information about pipe & steel fabrication services in the Northeast, Contact All State Construction, Inc today.